South Texas has been famous as a center of citrus production since the early 20th-century. From TexSun orange juice in Weslaco to Rio Grande Valley grapefruits, Texans and other Americans have enjoyed the products of the South Texas citrus industry.  The Texas Borderlands Newspaper Collection clearly documents the rise and growth of the citrus industry over the course of the twentieth-century, to such an extent that even the date filters on a search for "citrus" reflect the increasing popularity of Rio Grande Valley produce, with an increasing number of word occurrences from 1900 to 1990.
In the early 1900s, the orange was so popular a fruit across the U.S. that the December 5, 1908, issue of the Sonora Sun discusses research from the USDA that might result in an orange tree that "will withstand cold weather and thrive in the latitude of the northern states. If the experiment proves to be successful orange groves may be grown in parts of Missouri, Kansas, Illinois, Indiana, Kentucky and Virginia." By June 26, 1909, the "citrus fruit growers have arranged to meet at the courthouse this week to organize the Victoria County Citrus Fruit Growers' association," according to the Marfa New Era.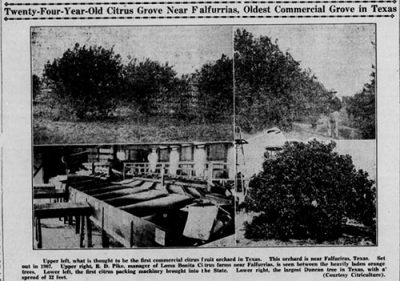 In his May 21, 1926, case, "Citrus Possibilities of Southwest Texas," Elwood Trask's column in the Falfurrias Facts examines conditions in California citrus regions and compares them to Southwest Texas. His prophetic conclusion has since proven accurate: "The Artesian Belt of Southwest Texas is nearer the markets of the middle west than is either California or Florida. Its citrus fruit has a shorter freight haul, and with the high quality of fruit grown, Southwest Texas is bound to become one of the leading citrus producing sections of the nation and the main supply for all the Mississippi Valley States."  By 1931, South Texas was known as a citrus-growing land, with Faulfurrias the "Coming Citrus Center." The Hebbronville News article about Falfurrias' rising prominence as a citrus center celebrates its history and commercial success in bold photos, including the picture above, captioned, "Twenty-Four-Year-Old Citrus Grove Near Falfurrias, Oldest Commercial Grove in Texas." In 1980, according to the Pharr Press, Texas' Rio Grande Valley "produce[s] around 10 percent of all U.S. citrus, the rest being supplied by Florida, California, and Arizona. In dollars, the 1978-1978 season produced almost $27 million from oranges and $17,640,000 from grapefruit."
Access to this collection was made possible through the support of a TexTreasures grant.  TexTreasures is an annual competitive grant program designed to help member libraries make their special collections more accessible to researchers across Texas and beyond. TexTreasures awards have been made possible by the Library Services and Technology Act through the support of the Institute of Museum and Library Services.