The Missouri-Kansas-Texas passenger train, eventually called the "Katy train," the "Katy Flyer" or the "Texas Special," first crossed the Red River from Oklahoma to Texas in 1872. After this crossing, the city of Denison was established on September
23, 1872, according to Folklore in Motion. The Katy train is mentioned frequently in the Texas Digital Newspaper Program collection, in newspapers ranging from 1891 to 2009, and it served Texas as a passenger train until 1965, at which point passenger service ended due to air and car transportation, according to this KXAS-NBC 5 news clip, digitized by UNT Libraries' own Special Collections.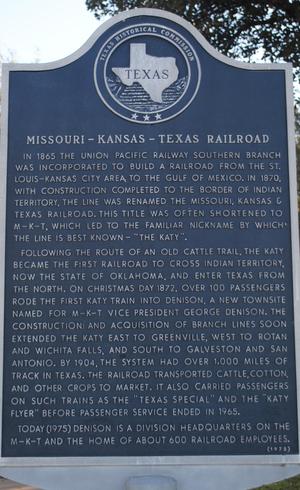 According to the Texas Historical Commission Marker for the Missouri-Kansas-Texas Railroad: "On Christmas Day 1872, over 100 passengers rode the first Katy train into Denison, a new townsite named for M-K-T Vice President George Denison. The construction and acquisition of branch lines soon extended the Katy east to Greenville, west to Rotan and Wichita Falls, and south to Galveston and San Antonio. By 1904, the system had over 1,000 miles of track in Texas. The railroad transported cattle, cotton, and other crops to market. It also carried passengers on such trains as the 'Texas Special' and the 'Katy Flyer' before passenger service ended in 1965."
Mentioned in newspapers from across Texas, the Katy Flyer featured prominently in daily life, as these excerpts from 1919-1920 newspapers demonstrate. In August 1919, one-hundred years ago, the Katy train resumed full service after having been briefly suspended during World War I for fuel savings. For North Texans, the resumption of the Katy train's passenger schedule, even with one trip per day, was extremely important news in trade, agriculture, and travel, as these excerpts illustrate!
July 28, 1919, Bonham News: "Board of Trade and Katy Train: Organization still going after this train. Train promised August 1. The Board of Trade through its secretary, has been right in after the Railroad Commission about the Katy train, discontinued some time since. The following telegram is given exactly as received, and the public is invited to read it, and draw its own conclusions.
Austin, Texas, July 28, 1919 C.R. Inglish, Bonham Texas: Your letter Friday, train matter. Full hearing has alredy been held and commission's order requiring reinstatement goes into effect August first. Nothing now before the commission indicating that order will not then be complied with, hence see no necessity for further hearing. Earle B. Mayfield, Commissioner. It has been whispered around that an effort would be made to postpone this train service, but the above does not sound like it. The Board of Trade did not ask for the full service enjoyed before, but a train down from Denison in the afternoon and back in time to catch the Texas Special north."
The Bonham Board of Trade rejoiced when the Katy train resumed service to their city, on August 8, 1919: "Katy Train is Put on Again: For some time the Bonham Board of Trade has been working on the proposition to get the train on the Katy back. It was abandoned during the war. This train, known by many as the Fannin County Flyer, made two round trips from Denison to Bonham every day. However, it seems it will make only one now." (Bonham News, August 8, 1919)
Better late than never, the first day the Katy train was back in business, it reached Denison a few hours after midnight on August 1, 1919: "Katy passenger train No. 4 scheduled to arrive in the city at midnight Thursday was delayed several hours in reaching this terminal. The slipping of tires on the engine caused more than three hours delay just north of Dallas Thursday evening." (Denison Herald, August 1, 1919)
In our next post, we will step back in time to ride the Katy Flyer with the people who rode in the fall of 1919 to early 1920!