During the week of September 18, 2023, Ana Krahmer and Tim Gieringer from UNT Libraries' Digital Newspaper Unt represented UNT in the 2023 National Digital Newspaper Program (NDNP) annual meeting, sponsored by the National Endowment for the Humanities (NEH). This annual meeting is an opportunity for NEH awardees to discuss strategies for preserving newspapers on a national level and to compare their processes at the state level. This meeting also represents one of only a handful of annual gatherings where people from across the U.S. who work in newspaper preservation can meet to chat about what they do. In September 2023, UNT was awarded for a seventh cycle to participate in NDNP, placing Texas alongside Florida, Minnesota, and Virginia, as the only states chosen for seven awards thus far.
Tim Gieringer presented about taking over project management midway through the two-year grant cycle. Tim's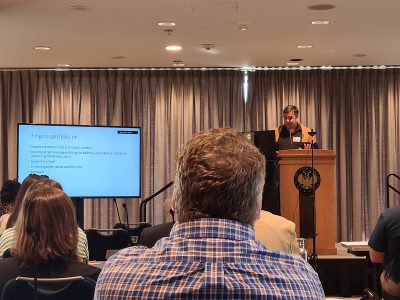 presentation focused on his experiences over the last several months as he has learned about NDNP processes, and it offered tips for any participants who may need to prepare to hand over a project in the future. In particular, Tim focused on creating and maintaining project documentation, sharing what he and Sarah Lynn Fisher, the former NDNP-Texas project manager, have created. Other conference attendees offered several good suggestions and comments that we will explore implementing into our workflow in the UNT Newspaper Unit. Also during this annual meeting, Tim was also able to meet with and receive additional training for new and re-starting project members from Library of Congress and NEH staff. 
Ana Krahmer presented about her committee work this past year in developing the Race & Ethnicity Keyword Thesaurus for Chronicling America, freely available through the National Endowment for the Humanities' Edsitement education site. This thesaurus, published last year by the committee, is intended to help scholars contextualize their language in researching civil rights and communities, using historic terms to locate more relevant information.  This past year, the committee worked on framing the terms according to how internal group members used them in comparison to how external people, unaffiliated with the given group, used those terms.  This resulted in an "Insider/Outsider Usage" section added to all keywords in the thesaurus, with examples from newspapers in Chronicling America serving as primary source evidence for this usage.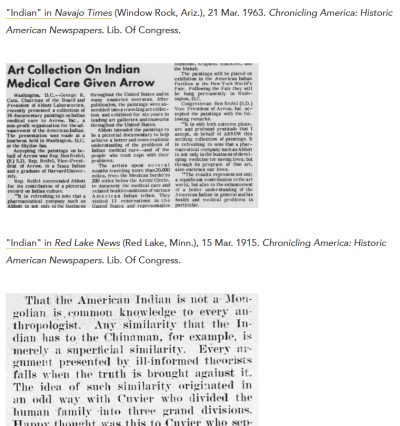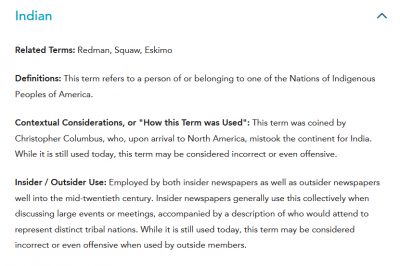 As one of only four state institutions awarded seven times by the NEH, UNT has enjoyed a long history working with the National Digital Newspaper Program, and the opportunity to learn what other states do in newspaper preservation is something we look forward to every year. NDNP, "a partnership between the National Endowment for the Humanities (NEH) and the Library of Congress (LC), is a long-term effort to provide permanent access to a national digital resource of newspaper bibliographic information and historic newspapers, selected and digitized by NEH-funded institutions (awardees) from all U.S." The collection NDNP has built on Chronicling America represents all 50 United States, Puerto Rico, and the U.S. Virgin Islands.  Comprising over 20 million pages of news content, ChronAm is a rich, free resource for anyone interested in historical and genealogical research.